LIBRARY
The Library named after the legendary Old Boy, Major Somnath Sharma, who was posthumously bestowed the first Param Vir Chakra, the highest Gallantry Award in 1948, has a collection of over 18000 books, journals, magazines and some rare priceless manuscripts.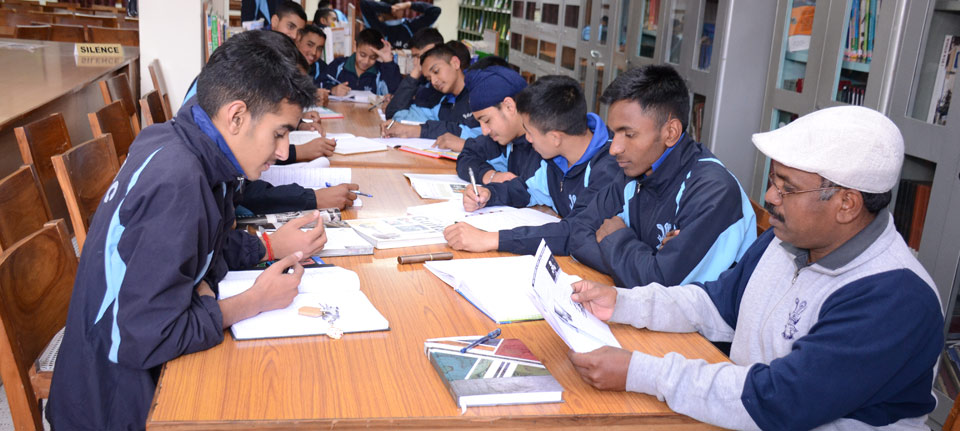 Catering to the academic life of the students, there are separate alcoves, appropriately lit for browsing and reading to enrich young minds in a relaxed environment.
COMPUTER CENTRE
RIMC, though an old institution steeped in tradition, does not lag behind in this age of Information Technology. Two labs, equipped with the latest hardware and software, provide ample opportunity for learning and developing computer skills.
The new, state of the art Learning Resource Centre, further augments the facilities for IT and Library
CYBER CAFE
We believe in providing extensive global exposure and connectivity to the students and Faculty Members via internet to enable them to remain constantly updated with current information.

SWIMMING POOL
Cadets get a chance to participate in various Inter School, Inter Section, District Level Swimming Competitions. The College has a full Olympic Size Swimmming Pool, with a 10 metre Diving platform. .

SQUASH COURT
The College has three full size Squash Courts.

HORSE RIDING
Cadets participate at various levels of competitions. The College has 20 equines with well trained instructors. The full fledged jumping arena provides ample scope to the Riders to enhance their riding skills.
ROCK CLIMBING
The College has an Artificial Rock Climbing wall and the cadets are trained under skilled and qualified instructors in the adventure sport of Rock Climbing.