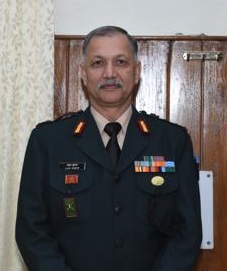 Col Ajay Kumar(1980-85, Pratap)
"Learning gives creativity, creativity leads to thinking, thinking provides knowledge, knowledge makes you great."
- APJ Abdul Kalam



Col Ajay Kumar Takes Over As Commandant, RIMC

We are witness to a transforming global milieu - an all pervading essence and a harbinger of something new in the air. The powerful rapids in the river of change may be pounding away, but surely, they smoothen and polish the boulder that remains firm and resolute, besides providing dexterity and lessons to the navigator. These experienced and esteemed steersmen in their endeavour at the RIMC, have navigated through the choppy waters with their relentless efforts, resilience and an unflagging spirit, taking the College to newer heights. The Rimcollian Commandants, thoroughly well versed with the ethos of the RIMC, have administered these realms with selflessness and a discerning eye. Col Vivek Sharma, who joined RIMC as the 8th Rimcollian Commandant on 5 April 2016, concluded his tenure on 30 January, 2020 and relinquished the Command to Col Ajay Kumar, who joined as the 9th Rimcollian Commandant on 31 January, 2020. An alumnus of the RIMC from 1980 to 1985, Col Ajay Kumar of 5 Rajputana Rifles, a proud Pratapian, bearing College No 1174, Passed Out as the Senior Dorm NCO. A versatile achiever, he represented his Section in Football, X-Country, Drill, Obstacles, Debates, and other activities. He was at the NDA from 1986 to 1988 and at the IMA from Jan 1989 to Dec 1989 to be commissioned in 1989. He also served as an Instructor CIJWS in Mizoram and led the NCC Delegation to Russia. He participated in operations like Prakram in Rajasthan and Rakshak in J&K. He has recently completed his M Phil in defence and strategic studies from Pune University. Besides having received various awards and honours, he was decorated with COAS Commendation Card by Southern Command on 15 August 2014. Prior to taking over as the Commandant here, he was commanding 3 Guj Girls Bn NCC in Bhavnagar, Gujarat. He tied the knot with Mrs Meenakshi Priyadarshni in 1998 on 21 May in Patna and is blessed with a son, Ahan and a daughter, Dakshita.




From The Commandant's Desk




The Year 2020 is meant to be a promising and an exciting year - a year by when India dreamt to be transformed and join the club of developed countries. Taking the dreams and vision document of Bharat Ratna, late Dr APJ Abdul Kalam seriously, RIMC took the early lead and spearheaded the march towards being established as a truly developed world class training Academy, strategizing numerous projects and reforms.

The Year 2020 is also exciting at the College for another reason - a 'Change in Command'. A 'Change in Command' sanctions an opportunity for all stakeholders to reflect on our past accomplishments and prepare a road map as we chart our course for the impending voyage. The College was extremely fortunate to have the exceptional leadership of Col Vivek Sharma, who with his vision and dedication touched the life of every soul on this Campus and spruced every corner of the College. Fine accomplishments achieved under his leadership are a direct outcome of strengthened processes and streamlined procedures, he painstakingly laboured, battling numerous challenges. His yeoman's service to our Alma Mater is rightly lauded by the Fraternity.

Our Cadets define the image of the finest 'Scholar Warriors', the Nation can be very justifiably proud of. Quickly adapting to demanding situations and changing circumstances, they, through sheer hard work, determination and application of their talent, dominate every competition they participate in. They are respected for their academic acquisitions, feared in the sports field, admired for their social graces and envied for their co-scholastic feats. Mentored by the Seniors and Masters, the culture of care and compassion to see every Cadet succeed is indeed at the core of Rimcollian culture. My message to the Cadets is simple - Do the right stuff and be the best.

The destiny of any institution is guided and shaped by tireless services of the Members of Faculty, who are also the permanent repository of knowledge and institutional memory. It's heartening to acknowledge the approach of our esteemed Masters, and their desire to see every Cadet excel is very reassuring. It augurs well for the future generation of the Cadets.

The task of educating, training and motivating the Cadets is beset with many challenges. Modern day education calls for innovative teaching - learning practices to ensure our Cadets are prepared to face any challenge head on and stay ahead of the curve. The College is indeed blessed with the unflinching support extended by Training Directorate and intermediate Headquarters who have, time and again, supported initiatives by the College and given momentum to our aspirations.

Our most dependent support base is indeed the Alumni associations, who have stood by us through thick and thin and supported the College in preserving our history and heritage, besides uplifting the education standards by constantly providing us with the best resources and practices from the environment. Your ineffable love for the Institution helps us to leap courageously.

RIMC is the best example of what team work can achieve. It also has the very distinct and unique status of being a National Monument. Rooted in tradition and blessed with the most modern vision, our Cadets are in the process of transforming the leadership landscape of our Defence Services and indeed other professions. Let us take a pledge to rededicate ourselves to the core values set by our predecessors and resolutely pursue the strength of our character, which defines the Rimcollian spirit. Our Alma Mater has to move from being "good to being great, from being great to being inspirational and from being inspirational to being transformational". I seek your best wishes and blessings. Year 2020 is a very exciting year, indeed!



ICH DIEN

Col Ajay Kumar, COMMANDANT, RIMC




VIVA RIMC !