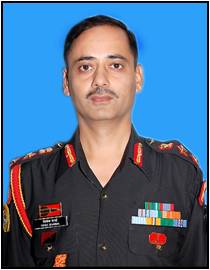 Col Vivek Sharma(1985-91, Pratap)
"Learning gives creativity, creativity leads to thinking, thinking provides knowledge, knowledge makes you great".
- APJ Abdul Kalam



In our Cradle of Excellence, the objective remains Excellence in the vital process of learning. As we turn the pages of yet another fruitful year, the diversity of our Team found integration in tenacity and relentless effort of each one in the quest of excellence, thereby setting the higher benchmarks yet again. While we have gone through the changes in more ways than one, the objective has been to keep ourselves aware of the socio-technological changes of current times. Yes, the change is inevitable since people's way of thinking is changing and children are beginning to think afresh. We want our young 'scholar leaders' to be thinkers and encourage them to be have an appetite to think big.



"To accomplish great things, we must not only act, but also dream; not only plan, but also believe." - Anatole France.
We have taken long strides in the year. Obviously, we consider education as a committed collective responsibility of all aspects inclusive without an exception. Our focus therefore has been on the Cadets as Centre of Gravity. To provide them with a temple of learning, we have stressed on a holistic plan of building the human resource and infrastructure. The execution of a well planned infrastructure development, welfare of our Support Staff, teaming up of our Faculty and management of Administration with services at the door step, have been our achievable areas. We have brought about a transformation in the maintenance of school infrastructure with participation of all stakeholders including the cadets. The net resultant has been an overhauled training and administrative machinery providing a quantum leap to the process of learning.
Whether there are or not the changing needs of the children and its certain things don't change over time, the teaching Faculty would still constantly need to learn, brushing up and getting inspired to try new strategies. Master's Training is one area we have invested heavily into. The first very healthy sign has been the strengthening the Staff Room signaling a very heavy Staff Team, ready to embrace the challenges of dealing with the Cadets. Our Team has been always vibrant to face the issues upfront, discuss every nuances threadbare and draw out strategies each time. Masters Workshop in the month of Jan and Jul have only been the trigger to the process and thus, shaping ourselves has been a continuous process. As a part of our strategy, we have also roped in parents for shaping the young minds, not just during Partner Parent Meet but as a constant mentoring. The short term measure of the success of any school is the degree of happiness and achievement of the children. Our Hardwork@Fun has brought in grand success in every sphere. What is more heartening is to see our Cadets learning by experiencing the diverse ways with participation by all and learning not restricted to classroom alone. Our Cadets have been at the forefront of every action scholastic and co-scholastic. Their successes are a great source of motivation to our Faculty and the Support Staff. The absolute treat has been the constant success in contributing our Boys to the NDA and that too with exceptional merit. We only have been bettering our records in every sphere. The long term measure of a school is the Alumni performance. Our Alumni have done us proud by taking away all the awards in NDA, NAVAC, AFA and IMA. The successive President's Gold Medal and Swords of Honour are only a few of the many laurels that our Alumni have bagged at these premier Pre-Commission Training Academies. All this once again reassures us that our grooming is headed in the recruiting direction.

"Temples are more than stone and mortar…. they are filled by faith and sanctified by sacrifice and service". – Thomas S Manson

The 'hallowed portals' of our great Institution are sanctified by the sacrifice and service of the entire Team including the Families, the Alumni and the Management at Service Headquarters. We continue our mission to inculcate highest moral values, instil ethical conduct amongst everyone and practice honour code with absolute sincerity. The faith and trust has been reposed by our Nation in all of us. We have been continuing and will continue to undertake this noble journey of Nation building with utmost responsibility. We continue to mentor our Cadets as Rimcollians dedicated to the Nation, making a mark where ever they are.



VIVA RIMC !