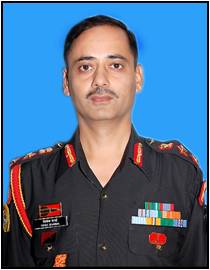 Col Vivek Sharma(1985-91, Pratap)
"Education is not the learning of facts but the training of mind to think."
-
Albert Einstein
It has been a wonderful journey being at the helm of our premier Category 'A' Training Institution which has entered 95th year of its existence. Along with the pride comes the challenge of living upto the expectations and continuous striving towards greater heights. In the noble field of education, for us professionals, the most important task of them all is to help build the future to guide the thoughts of our very spirited children, adolescents and young minds in a manner that empower them, as future leaders to take the world forward in every possible capacity as a responsible citizen. This onerous task at RIMC translates into shaping the chosen few from across the nation into a fine blend of 'Scholar Leaders'. Accordingly with a dedicated team of Masters and Administration, I have been privileged to steer our institution towards desired objectives and  every challenge appears miniscule. It has been a very eventful and successful stint leading this fine team towards realising our goals.
The modern day academics, methods of learning, development process and life of a cadet at this Cradle of Excellence, obviously is vastly different from the environment we grew up. Unlike today, things were not served to us on platter and we were to deserve before we could desire. Discipline had limited dimensions, distractions were minimum and learning was in depth, opportunities and exposure were limited with hardly any partnership of parents. Today there is a vast expanse of learning by exposure to varied dimensions of holistic personality development. Parent partnership has grown stronger with mentors resulting in focused attention on every Cadet. The entire team of ours remain dedicated with all the devotion and passion to nurture these young buds into fine flowers of future.
Our alumni have always been a great source of inspiration and support for us. They have been setting the fine standards for us to emulate; their successes, a great source of inspiration and motivation for all of us. At the same time, their continuous display of strength of character manifesting into greater achievements is reassurance to us that our nurturing is well directed. It also keeps us under self audit all the time, which is so essential to evolve with the current times. Our boys have not only been receiving the top honours of President's Gold Medal at NDA in succession for past many terms but virtually bagging all the other awards too. Even at IMA, two Sword of Honours in past one year have been awarded to our boys. With such prolific record, other achievements like 14 out of 15 Blues/Half blues at NDA, only seems incidential. Drawing the inspiration from the Rimcollians, our young Cadets have done everything extraordinary from Ridings successes at Delhi Horse Show, Shooting best scores at Uttarakhand State Competition, wining individual and team honours at All India Debates and Quizzes, Reviving and lifting the RIMC Soccer Cup, maintaining supremacy by keeping the District Athletics trophy home for sixth year in succession taking up varied adventure activities and educational trips and yet turning out to be the Marksmen of Merit in UPSC All India Merit for NDA by virtually sweeping the top positions. It is no mean achievement to have sent 21 Cadets to NDA in Jul 2016 and 25 in Jan 2017.
32 Young buds joined us as 189th Course in July 2016 and 28 in Jan 2017 as 190th Course mushrooming from all corners of the country. Within no time, they have blossomed and flowered as a Cadet displaying the true nationally integrated culture of brand RIMCO. We remain at our mandated overall college strength of 250 blended with Cadets from every part of the country. However, the process of expansion, that has been set into the motion since late 90's is taking some finality. Past many months have also seen presentations before various stake holders to convert IN PRINCIPLE APPROVAL of Ministry of Defence into Govt Sanction Letter. It is pertinent to highlight that the process of expansion is being taken forward for a strength of 350. We have insisted and have been able to prevail over the competent authorities that the additional strength will be affected only once the required infrastructure as also accritional resources are made available. Our approach has also been to renovate old heritage structure, go vertical for new projects and not to consume the open green spaces. As the case stands today, we will be pursuing the budgetary support and infrastructure development in next few years. Earliest that we visualize commencement of increase in strength will only be after the centenary.
I have been fortunate to be receiving the blessings from all our old boys across the globe. The constant support and advises have helped me discharge my duties in this very challenging assignment with ease. ROBA President, Secy and the trust have stood by us through thick and thin and given us morale boosting strength for living upto our desired goals. Our renowned Rimcollians have extended moral and material support in whichever capacity they are and to whatever best they could. Team RIMC extends gratitude to one and all. On our part as a thanks giving gesture, we promise to offer you a sprawling campus filled with lively spirit, each time you bless us with a visit.
As we are heading towards the Centenary, the soaring spirit was demonstrated by our young old boys who poured in large numbers to be at the Alma Mater, some of them even cycled their way from Shimla to Doon. Our youngest Chandragupta Section has also entered the Golden year with a bang. The fact that our current Chief of Air Staff Air Chief Marshal BS Dhanoa, PVSM, AVSM, YSM, VM, ADC, GOC-in-C Central Command Lt Gen BS Negi, UYSM, YSM, SM, VSM**, PhD and Air Marshal C Hari Kumar, PVSM, VM, VSM are from Chandragupta Section is testimony to it's deep rooted establishment.
Having spent the prime time at RIMC and going through the tireless regime, we have had 179th and 180th Course graduating in May and Nov 2016 respectively. The occasions have been graced by Maj Gen SC Mohanty, GOC, 14 RAPID (S) and Air Marshal PP Reddy, PVSM,VM (Retd), Consultant Advisor, Ministry of Defence. Having stepped out of the hallowed portals of our great institution, the nurturing of BAL-VIVEK will arm them with strength, wisdom and character to be a Rimcollian dedicated to the Nation – ICH DIEN.
"Excellence is a Continuous process not an accident"
VIVA RIMC !